Monthly Archives:
February 2018
Comments Off on 2018 Music Appreciation Concert – Great Performance!
Posted in Uncategorized
Come s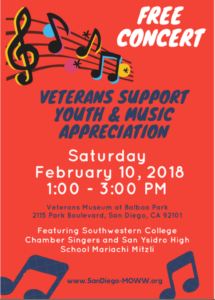 upport our talented San Diego youth as they entertain us with a free music concert at the Veterans Museum at Balboa Park Saturday, Feb 10, 1:00 – 3:00 pm. The San Ysidro High School Mariachi Mitzli and the Southwestern College Choral Music program.