<![CDATA[
Monday, June 19th Invite your family, friends and neighbors to join us!
See you at Anchors Conference Center on Monday, May 15th from 11:15 a.m. to 1:30 p.m. Cost is $16.00. (Pay the Chapter in the luncheon room: Cash or Check accepted) Enjoy a little fellowship, partake in a marvelous luncheon buffet with all the fixings, and learn a more about the San Diego Youth Leadership Conference.
Anchors Conference Center & Catering is located at 2375 Recreational Way, Bldg 3210, San Diego, CA 92136 (National City) DIRECTIONS: The Anchors Catering and Conference Center is conveniently right off I-5 in San Diego on Main St. and the east side of Navy Base San Diego, 200 feet outside Gate 32, at Main St. and Yama St.

CAPTAIN THEODORE O. ATWOOD, Jr., CHC, USN (RET.)
Captain Theodore O. Atwood, Jr. CHC, USN, a native of Augusta, GA, was born on August 3, 1936. He commenced his Naval Service on October 8, 1953 as a member of Surface Division 6-8, USNR. He was subsequently ordered to active duty in the USS Randolph (CVA 15) and was released to inactive duty as a Third Class Machinist Mate after completing two years of service.
Captain Atwood received his BA from the University of Georgia in 1960 and his Master of Divinity from the Church Divinity School of the Pacific, Berkeley, California in 1963. He was commissioned as Ensign in the Theological Education Program on May 2, 1961. Following ordination in the Ministry of the Episcopal Church, he served as Curate, Vicar and Rector of Episcopal Congregations in Georgia for five and one-half years. He returned to active duty in January 1969 with the objective of serving with the Marine Corps in Vietnam. After an initial assignment to the Fifth Marine Division, Fleet Marine Force, he served in the Republic of Vietnam with the First Marine Division, Fleet Marine Force. His post-Vietnam assignments were: Marine Corps Recruit Depot, Parris Island, S.C.; Destroyer Squadron TWENTY-THREE; Naval Regional Medical Center, San Diego, CA; and the Senior Course for Naval Chaplains, Naval Education & Training Center, Newport, R.I. Following completion of his studies in June 1978, he was ordered to duty with the First Marine Aircraft Wing, Fleet Marine Force; First Force Service Support Group, Fleet Marine Force; and Commander Naval Surface Force Pacific, where he was assigned as Officer in Charge, Dependents Assistance Board.
Captain Atwood's decorations include the Legion of Merit Medal, Meritorious Service Medal, Navy Commendation Medal with Combat "V", Combat Action Ribbon, Presidential Unit Citation, Meritorious Unit Citation, Naval Occupation Service Medal, National Defense Service Medal with 1 Bronze Star, Sea Service Deployment Ribbon, Vietnam Service Medal, Republic of Vietnam Unit Gallantry Citation, Republic of Vietnam Civil Actions Citation and Republic of Vietnam campaign Medal with 2 Stars.
Captain Atwood retired from active naval service on July 1, 1989. He served as Assistant to the Rector, St. Dunstan's Episcopal Church in San Diego, CA until September 1993, and a non-stipendiary Staff Assistant to the Honorable Bill Lowery, United States House of Representatives, 41st Congressional District of California, 1989-1992.
Captain Atwood became the Rector of Christ Church, Augusta, GA on May 1, 1994 and continued in that position until his retirement on April 1, 2003. Following his retirement, he served as the Interim Rector of St. Michael's, Waynesboro, GA from December 14, 2003 until April 15, 2005. He assumed duties as the Vicar of Holy Cross, Carlsbad, CA on 1 January 2007. He retired for the fourth time on 30 June 2010.
He served as the Chaplain General for the National Convention of the Military Order of the World Wars in 2014 and is serving as the Chapter's Chaplain.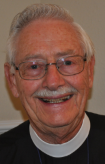 Reverend Canon J. Milton Collins

The Reverend Canon J. Milton Collins, CAPTAIN, Chaplain Corps, United States Navy (Retired) was born in Washington, DC on 7 October 1933.  He is a lifelong member of the Episcopal Church.  During the 1950's he served for three years as an enlisted man in the United States Army.  He graduated from the University of Maryland (College Park, MD) in 1959 and from the Episcopal Theological School (Cambridge, MA) in 1962.  He was ordained a deacon in June of 1962 and a priest in December of that year, both ordination services were in the Washington National Cathedral.  He served as Deacon-in-Charge and then Priest-in-Charge of two parishes in Southern Maryland.  After those assignments he became an active duty chaplain in the United States Navy.

Chaplain Collins retired from the Navy with more than thirty years' active service.  Seven of those thirty years were with the Marine Corps and included tours with all three Marine Divisions.  He served as chaplain aboard a repair ship, a submarine tender and an aircraft carrier.  He was command chaplain at the Naval Medical Center (San Diego), Camp Butler (including all Marine Corps bases in Japan), Naval Weapons Center China Lake (CA), aboard the USS Constellation and the U.S. Naval Base, Roosevelt Rhodes (Puerto Rico).  After retiring from the Navy Father Collins served as parish priest and interim rector for several Episcopal parishes in the Diocese of San Diego.

He is currently serving as Canon for Pastoral Care at St. Paul's Cathedral, San Diego.  Father Collins has been a Companion since 2013.

]]>