Comments Off on 2018 Music Appreciation Concert – Great Performance!
Posted in Uncategorized
Come s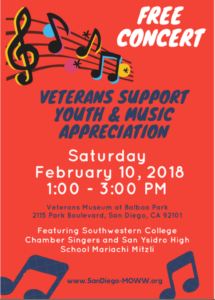 upport our talented San Diego youth as they entertain us with a free music concert at the Veterans Museum at Balboa Park Saturday, Feb 10, 1:00 – 3:00 pm. The San Ysidro High School Mariachi Mitzli and the Southwestern College Choral Music program.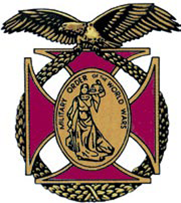 EVERYONE IS Invited!
FREE PUBLIC OUTDOOR PATRIOTIC CELEBRATION
The 61st Annual Massing of the Colors and Service of Remembrance
Saturday, October 21, 2017      
10:30-11:30AM 
Spreckels Organ Pavilion, Balboa Park
We will honor our flag and those who serve or have served our country; and remember those who have paid the ultimate sacrifice in service to the United States of America.  This family friendly outdoor event will feature a parade of color guards from civic, military, veterans, law enforcement, JROTC/ROTC, and scouting that you will not want to miss!
#SDMOWW #MOWW #2017MOC  #AmericanFlag #honor #patriotism #MOC
2017 SAN DIEGO MASSING OF COLORS ENTRY FORM FOR COLOR GUARDS OF UNITS, SCHOOLS, ORGANIZATIONS, & COMMUNITY GROUPS Press SUBMIT Button When Completed.  Thank you!  Color Guards please arrive at 9:00 AM and report to Command Sergeant Major Reed, Spreckels Organ Pavilion by the plantings. 
[contact-form to="debbie.kash@gmail.com" subject="2017 MOC Color Guard"][contact-field label="Organization Name" type="name" required="1″][contact-field label="Contact Name" type="name" required="1″][contact-field label="Contact Email" type="email" required="1″][contact-field label="Contact Phone" type="text" required="1″][contact-field label="Comment" type="textarea"][/contact-form]