Monday,  Feb 24th 
Invite your family, friends and neighbors to join us!
See you at Anchors Conference Center on Monday, Feb 24th from 11:15 a.m. to 1:30 p.m. Cost is $18.00. (Pay the Chapter in the luncheon room: Cash or Check accepted) Enjoy a little fellowship, partake in a marvelous luncheon buffet with all the fixings, and learn more about Bob Chicca's experience as a POW on the USS Pueblo.
Anchors Conferen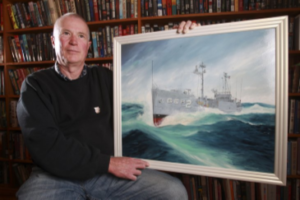 ce Center & Catering is located at 2375 Recreational Way, Bldg 3210, San Diego, CA 92136 (National City) DIRECTIONS: The Anchors Catering and Conference Center is conveniently right off I-5 in San Diego on Main St. and the east side of Navy Base San Diego, 200 feet outside Gate 32, at Main St. and Yama St.
SPEAKER
Bob Chicca
Bob Chicca was one of the 83 crewmen aboard the USS Pueblo when it was captured by the North Koreans in January 1968.  One crew member was killed in the capture and Bob was severely wounded. The crew spent just under a year in North Korea enduring deplorable conditions and unspeakable brutality.  Bob was awarded The Bronze Star, two Purple Hearts, the Navy Commendation Medal all with combat V's, and the POW medal along with many other awards for his leadership and resistance.  The USS Pueblo is moored in Pyongyang, North Korea, and is open to the public as a museum. It was never decommissioned and is the only US ship being held by a hostile nation. Bob now lives in Bonita, CA with his wife, Vanessa.