Tag Archives:
MOWW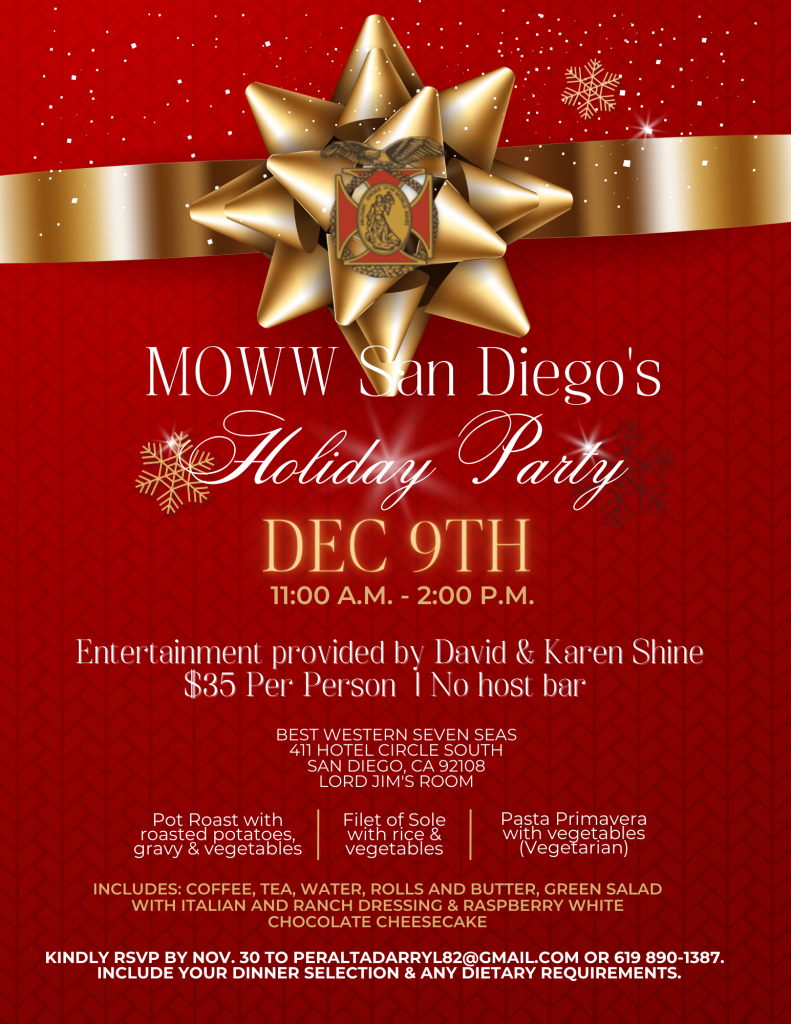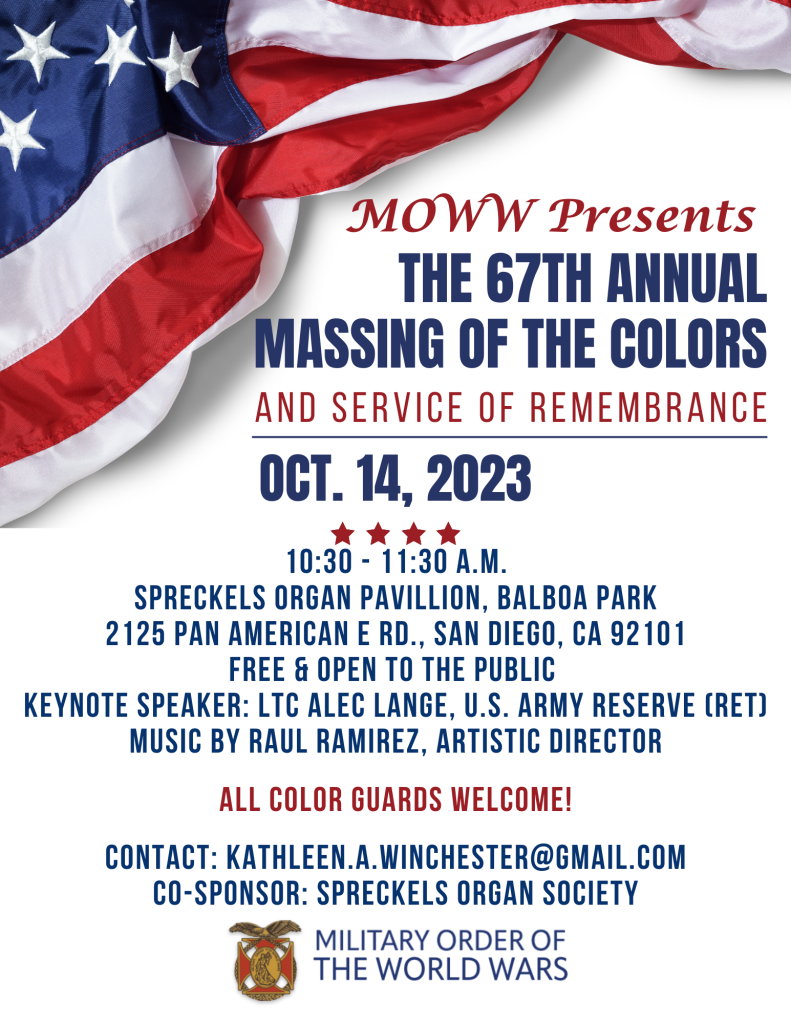 The 67th Annual Massing of the Colors and Service of Remembrance
Saturday, October 14, 2023
10:30 – 11:30 AM
FREE PUBLIC OUTDOOR PATRIOTIC CELEBRATION

EVERYONE IS INVITED!
Spreckels Organ Pavilion Balboa Park
2125 Pan American E Rd, San Diego, CA 92101
(Free Parking in Lots within the Park)
Keynote speaker: Lieutenant Colonel Alec Lange, U.S. Army Reserve (Retired) – Representative for the 50th Vietnam War Commission.
This traditional ceremony honors the flag of the United States of America and those living and deceased who have gallantly struggled to preserve it and our freedoms.  The ceremony is also designed to instill and foster patriotism and love-of-county. Please come out and join the celebration with members of our armed forces, veteran organizations, law enforcement agencies, and civic and youth groups.
Scouts and Scouters in uniform can receive a special large Massing of the Colors patch for attending.
2023 SAN DIEGO MASSING OF COLORS ENTRY FORM FOR COLOR GUARDS OF UNITS, SCHOOLS, ORGANIZATIONS, & COMMUNITY GROUPS Press SUBMIT Button When Completed.  Thank you!
Color guard units will report at 9:00 AM.  Don't forget your US Flag and unit flag.
By Holly Shaffner
Coming this spring – Honor Flight San Diego for WWII/Korea/Vietnam War Veterans and terminally ill Veterans from any era. The organization will fly 85 senior veterans on a three-day trip to Washington, D.C. to visit the memorials built for their service and to truly honor them for their service. The trip is planned for April 28-30, 2023, and a second trip is planned for Sept. 29-Oct. 1, 2023.
The Veterans will visit the WWII, Lincoln, Korea, Vietnam Memorials, the U.S. Navy and Marine Corps Memorials, and Changing of the Guard Ceremony at Arlington National Cemetery, and women Veterans will visit the Military Women's Memorial.
The trip is at no cost to the Veteran due to generous community supporters. Every Veteran is paired with a guardian/battle buddy who pays $900 to help offset the per person cost of the trip.
How can you help?
If you know a Veteran from WWII/Korea/Vietnam Wars, or a terminally ill veteran, please help them apply at: www.HonorFlightSanDiego.org. They can also call (800) 655-6997 to have a hard copy application sent to them.
Save the Date for Sunday, April 30 and Sunday, Oct. 1 to welcome them home at San Diego International Airport. There will be 800-1,000 people there to give our heroes the homecoming they deserve!
Share information about Mail Call to your community groups. The organization is collecting letters, cards, and notes for the Veterans going on the flight. Letters can be sent directly to: Donna Hester, 645 Front Street, Unit 614, San Diego, CA 92101. You can also contact Donna with questions or to request a letter pick up by emailing her: donna@thehesters.com or calling her cell: (619) 985-9729. Deadline to receive mail call for the spring flight is April 22nd.
Thank you for your support to get our SoCal Veterans on a "Trip of a Lifetime!"