Monday, May 15th Invite your family, friends and neighbors to join us!
See you at Anchors Conference Center on Monday, May 15th from 11:15 a.m. to 1:30 p.m. Cost is $16.00. (Pay the Chapter in the luncheon room: Cash or Check accepted) Enjoy a little fellowship, partake in a marvelous luncheon buffet with all the fixings, and learn a more about the San Diego Youth Leadership Conference.
Anchors Conference Center & Catering is located at 2375 Recreational Way, Bldg 3210, San Diego, CA 92136 (National City) DIRECTIONS: The Anchors Catering and Conference Center is conveniently right off I-5 in San Diego on Main St. and the east side of Navy Base San Diego, 200 feet outside Gate 32, at Main St. and Yama St.
CAPTAIN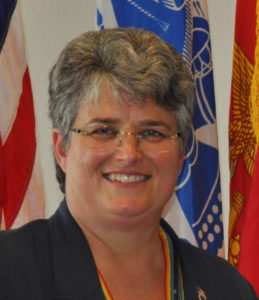 DEBORAH A. KASH, USAF (Ret)
Captain Deborah Kash has a Bachelor of Science degree from Texas Christian University's (TCU) Harris College of Nursing and was a distinguished graduate of the TCU Air Force ROTC program. Capt. Kash started her Air Force career as a medical-surgical nurse with the 22nd Medical Group at March AFB (CA).  She completed the Basic Infection Control Course at Sheppard AFB, Texas.  Other duty assignments while at MARCH AFB included; pre-op nurse, same day surgery nurse, Combat Medical Readiness Training Instructor, Emergency Medical Technician Instructor, Pediatric Nurse Conference Coordinator and the Infection Control Officer.   The 22nd Medical Group awarded Capt Kash as Nurse of the Quarter and Nurse of the Year 1990.  During Operation Desert Storm, she was deployed to the 609th Contingency Hospital, Zweibrücken (Germany) and was on the wound care team.  Capt. Kash retired from the Air Force in 1994.
Capt Kash continued her nursing career at Shriners Hospitals for Children, Los Angeles, CA as the Infection Control and Employee Health Nurse were she also chaired the Patient Education Committee.  She earned her Infection Control Certification from the Certification Board of Infection Control and Epidemiology, Inc.  Capt Kash then worked for Inland Valley Hospital, Wildomar, CA as their Infection Control and Ostomy/Wound Care Nurse before retiring from nursing in 2000.
Capt Kash is an active member of The Military Order of the World Wars.  She has been the San Diego Chapter Commander and the Department of Southern California Commander. Capt Kash has held the following national committee chair positions: Chapter Activities & Awards, Membership, Awards Process Ad Hoc, Budget, Nominating. Capt Kash has been elected to the following national positions: General Staff Officer, Vice Commander-in-Chief, Senior Vice Commander-in-Chief and Commander-in-Chief.
Currently, Capt. Kash is active in the San Diego and JH Pendleton MOWW Chapters.  She is serving as the Secretary for the Council of Past CINCs and Chair of the 2017 National Convention Workshops Ad Hoc Committee.  Capt Kash continues to serve on the San Diego Youth Leadership Conference Board of Directors for over 10 years and is the Treasurer/Secretary and Curriculum Committee Chair.  She is a board member of the Patriotic Education, INC. and Treasurer/Secretary of the South Coast Patriotic Fund and Vice President of P.E.O., Chapter MR, La Jolla, CA.
Capt. Kash resides in San Marcos, CA with her husband, Dan.