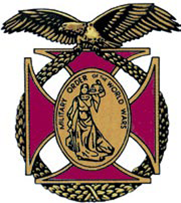 Monday, April 17th Invite your family, friends and neighbors to join us!
See you at Anchors Conference Center on Monday, April 17th from 11:15 a.m. to 1:30 p.m. Cost is $16.00. (Pay the Chapter in the luncheon room: Cash or Check accepted) Enjoy a little fellowship, partake in a marvelous luncheon buffet with all the fixings, and learn a little more about the 442nd RCT.
Anchors Conference Center & Catering is located at 2375 Recreational Way, Bldg 3210, San Diego, CA 92136 (National City) DIRECTIONS: The Anchors Catering and Conference Center is conveniently right off I-5 in San Diego on Main St. and the east side of Navy Base San Diego, 200 feet outside Gate 32, at Main St. and Yama St.
Combat History Facts & Myths of the 442nd RCT
Thomas J. Marshall, Jr., MD FACS CAPT MC USN (Ret.)
Captain Thomas J. Marshall, Jr. MC USN retired from active duty in December, 2011. During his 24 years of active service, he commanded a combat medical unit during the assault phase of Operation Iraqi Freedom in 2003, served as Chairman of the Department of Surgery at the Naval Medical Center San Diego (2006-2008) and served aboard ten ships including four aircraft carriers, five amphibious assault ships and a submarine. In addition to his Medical Degree, he also has a Masters Degree in Military History. Since his retirement, he has served the San Diego Chapter of the MOWW as Senior Vice-Commander and is presently Chapter Historian and Treasurer. He is the author of a monthly historical article in the MOWW San Diego Chapter newsletter and has had an article on the Battle of Midway published in the MOWW magazine, "Officer Review," in May, 2016. He has also made presentations to the San Diego Chapter of the MOWW on D-Day, Flag Day, The Evolution of Presidential Power and the Battle of Midway, which was also presented at the San Diego Veterans Museum.