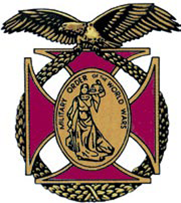 Monday, March 20th  Invite your family, friends and neighbors to join us!
See you at Anchors Conference Center on Monday, March 20th from 11:15 a.m. to 1:30 p.m. Cost is $16.00. (Pay the Chapter in the luncheon room: Cash or Check accepted) Enjoy a little fellowship, partake in a marvelous luncheon buffet with all the fixings, and learn a little more about GITMO as related to National readiness and Security.
Anchors Conference Center & Catering is located at 2375 Recreational Way, Bldg 3210, San Diego, CA 92136 (National City) DIRECTIONS: The Anchors Catering and Conference Center is conveniently right off I-5 in San Diego on Main St. and the east side of Navy Base San Diego, 200 feet outside Gate 32, at Main St. and Yama St.
Juan M. Hidalgo Jr.
Juan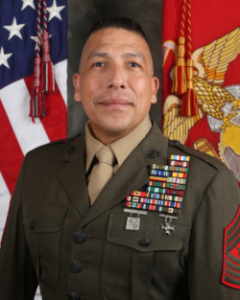 M. Hidalgo Jr. was born in San Diego, CA and raised in National City, CA. In February 1984, Hidalgo graduated high school and enlisted in the United States Marine Corps.  In April 1984, he attended recruit training at Marine Corps Recruit Depot (MCRD) San Diego, CA.
Until earning the rank of First Sergeant in 2003, Hidalgo's military occupational specialty was Armor, (Tank) Crewman.  He served in every enlisted leadership position within the Armor Community.
Outside the Armor Community, Hidalgo served as a Recruiter's Aide at National City Recruiting Sub-Station.  Hidalgo also served as a drill instructor, senior drill instructor, and later served as a Company First Sergeant at MCRD. In 2003 he deployed and led his tank platoon in support of Operation Iraqi Freedom.  Hidalgo was assigned as the First Sergeant of Support Company, Combat Service Support Battalion 10. He deployed in February 2004 to lead a company in support of Operation Iraqi Freedom 2. In January 2007, Hidalgo reported to Marine Light Attack Helicopter Squadron 169, Camp Pendleton, CA and again returned to lead Marines in support of Operation Iraqi Freedom 6-08.
After a series of successful leadership assignments within the Marine Air Ground Task Force, he was assigned in March 2010 to the 13th Marine Expeditionary Unit as the Unit Sergeant Major. As a Marine Sergeant Major at the pinnacle of his career, from 2013 to 2015 he was selected to represent all services as the Senior Enlisted Leader of Joint Task Force, Guantanamo Bay (GTMO), Cuba.  A well-decorated combat veteran, Hidalgo retired on 1 October 2015 after over 31 years of proven leadership and faithful service to his country.
With his desire to remain an active member of the community while an active member of the military, Hidalgo, along with his family, continuously volunteer for causes such as Toys for Tots, Volunteers of America and feeding the homeless. Hidalgo also served as School Board Chairman and member for a significant portion of his military career.
Since retirement, Hidalgo has remained active with the community and his church, serving as a church leader and board member.  Committed to supporting veterans and military families he has also remained active with a military non-profit organization.
Hidalgo holds a Bachelor of Science Degree in Criminal Justice (Summa cum laude) from Park University and is a National Defense University Graduate of Keystone Executive Leadership.
Hidalgo and his wife, Fran, reside in the heart of San Diego with their children who look forward to supporting their father's bid for continued service of this country.
Juan M. Hidalgo Jr. is a retired Marine Sergeant Major.  Use of his military rank, job titles and photographs in uniform does not imply endorsement from the Department of Defense or the United States Marine Corps.