From Top Secret to Topspins
Navy 

Intelligence

 Officer, Captain Steve Kappes, USN, Ret.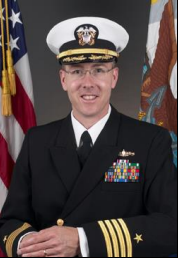 San Diego's MOWW is honored to welcome Capt. Kappes as our keynote speaker in November.
Steve spent decades using intelligence to improve our national security.  Now, he uses tennis to improve the lives of wounded, ill, and injured service members, veterans and their families. He will discuss his career and how it led him to serve others through the sport he loves.
Steve is the co-founder and Director of the San Diego Wounded Warrior Tennis Program, and he has been a very active member of our local veteran community for 14 years.  Prior to that, he served 24 years as a Surface Warfare qualified Intelligence Officer in assignments around the world.
MOWW November Meeting
Wednesday, Nov. 16
Meet & Greet: 11:00 a.m. |  Program: 11:30 a.m. – 1:00 p.m.
San Diego Unified School District
Revere Center
6735 Gifford Way, Room 2
San Diego, CA 992111
Open to the Public
Cost is $12 Per Person (Lunch Included)
*RSVP Required*
Email Craig Noble at craignoble@cox.net
We are grateful to the San Diego Unified School District for hosting this month's meeting.
BACKGROUND: Captain Steve Kappes served 24 years in the Navy as a Surface Warfare qualified Intelligence Officer. He served ashore in the U.S. and overseas, and at sea with deployments to the Pacific Ocean, Indian Ocean, Mediterranean Sea, and combat zones in the Middle East. He led teams of hundreds of intelligence analysts who provided tactical level intelligence used in combat and peacekeeping operations, and provided intelligence support to fleet and multi-service intelligence centers and national intelligence agencies that influenced military operations worldwide.   He also served as the Principal Intelligence Advisor to senior Navy leaders in the Pentagon working on long-range strategic plans.
Following his Navy career, Steve continued to support deployed naval forces through his work as a Program Manager and Director at KAB Laboratories and Epsilon Systems Solutions, San Diego-based defense contractors that provide software, systems engineering, and training products and services to the Navy and other government clients.
As a volunteer, Steve co-founded and directs the San Diego Wounded Warrior Tennis Program which uses tennis a means of physical and emotional rehabilitation and community reintegration for wounded, ill, and injured service members and veterans from across the country. Over 1,000 disabled service members and veterans have benefitted from this program since its inception in 2009.
Steve also serves on the Board of Directors for three community tennis organizations and for Zero8Hundred, a nonprofit veteran service organization that helps military members, veterans, and their families transition from active duty to civilian life. He is currently earning a master's degree in Nonprofit Leadership and Management from the University of San Diego in preparation for a career in the social impact sector.