Monday, September 25th Invite your family, friends and neighbors to join us!
See you at Anchors Conference Center on Monday, September 25th from 11:15 a.m. to 1:30 p.m. Cost is $16.00. (Pay the Chapter in the luncheon room: Cash or Check accepted) Enjoy a little fellowship, partake in a marvelous luncheon buffet with all the fixings, and learn more about the United States Coast Guard Sector San Diego.
Anchors Conference Center & Catering is located at 2375 Recreational Way, Bldg 3210, San Diego, CA 92136 (National City) DIRECTIONS: The Anchors Catering and Conference Center is conveniently right off I-5 in San Diego on Main St. and the east side of Navy Base San Diego, 200 feet outside Gate 32, at Main St. and Yama St.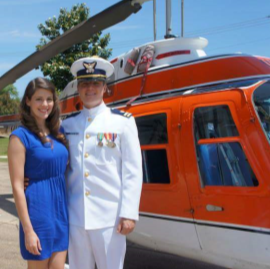 LT Christopher J. Schleck hails from Caldwell, New Jersey and is a 2010 graduate of Rutgers University where he earned a degree in Bioenvironmental Engineering and a 2010 graduate of Coast Guard Officer Candidate School in New London, CT.
In 2008, LT Schleck attended Coast Guard Basic Training in Cape May, NJ as part of the College Student Pre-Commissioning Initiative Program.  He attended school full time while serving on active duty at Coast Guard Sector New York.  From 2010-2013 LT Schleck served as a Prevention Officer specializing in US flagged commercial and passenger vessels. From 2013-2015, LT Schleck attended Naval Flight School in Pensacola Florida flying the Beechcraft T-6 Texan II and the TH-57 Jet Ranger alongside counterparts in the Navy and the Marines.  In 2015, LT Schleck graduated Flight School and was station in San Diego, CA to fly the MH-60T.
In 2017, LT Schleck was recognized as a member of the 2017 San Diego Order of the Daedalians Aircrew of the Year along side Pilot CDR Pittman, Flight Mechanic AMT2 Jason Brenenstall, and rescue swimmer AST2 Chris Moore for the rescue of 3 sailors 206 miles of the Coast of San Diego.
LT Schleck is married to his wife Catherine and has dogs, Brodie and Riley.